ShunXin Compost Machinery for your Organic Fertilizer Compost and Further Process
ShunXin Compost Machinery is the leader of fertilizer equipment industry in China. The main project of our company is the production and installation of fertilizer production line and its accessories. ShunXin was founded in 1987. With nearly 30 years working experience on fertilizer equipments' design and manufacture, we have strong ability to produced high quality facilities for fertilizer compost and further process.What's more, both the ShunXin Brand and our products obtain great reputations among our customers at home and abroad. Meanwhile, we have our own professional research and manufacture team in the factory. They all devote themselves to the research and development of fertilizer compost machinery. In our company, various compost turning machines for sale to make compost. So, ShunXin can provide you with most professional service about fertilizer composting. And the satisfaction of customers always is our pursuit.
Why Is Composting Important?
The process of composting is the recycling of organic matter. When we do composting work, we transfer the useless organic material into useful organic fertilizer. Thus, composting is a meaningful and important thing for people living in the earth. On the one hand, the use of chemical fertilizers in agriculture has been reduced. On the other hand, the use of organic fertilizer is great to soil and increase agricultural output. So, with the help of ShunXin compost turner machines, why not do composting with your organic waste? Our compost turner for sale to deal with your organic waste.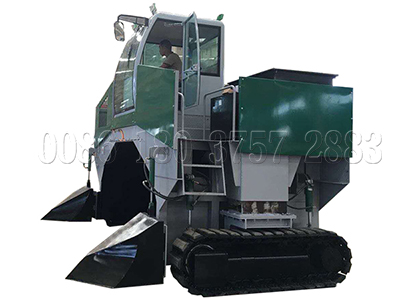 Windrow Compost Turner
Our Composting Technology
ShunXin compost turner for sale mainly adopts the aerobic fermentation technology in the composting process. It also can be called high temperature fermentation. Compared with anaerobic fermentation, this method has many advantages. For example, it improves the quality of organic products. In some way, high-temperature can kill most pathogenic bacteria in organic wastes. Under the aerobic fermentation condition, the organic matter degraded rapidly and speed up the fermentation process. So, it shorten the fermentation time greatly. Besides, aerobic fermentation has less unpleasant odors. Therefore, aerobic fermentation always is the first choice for composting work.[/column]
How To Choose Compost Turner for Your Plant? ShunXin Compost Turner for Sale.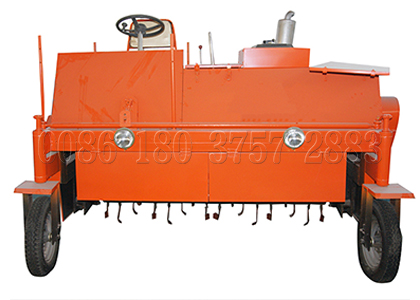 When you choose machine for your plant, it just same as we buy other goods in the market. Sometimes, the same goods may be marked in different price. So, the best method for your equipment choosing is to have the field visit to the factory.
Tonda Heavy Industry, as a professional organic fertilizer production equipment supplier in China, we have build over 60,000 ㎡standardized heavy industrial plant for the equipment production. In the past 30 years, we have continuously introduced advanced large and medium-sized processing equipment to improve our production system. And also set up a professional team for the research of high-quality fertilizer equipment. If you do not know how to choose compost turner for your plant or you are not sure whether the facility you choose is suitable for yourself, just feel free to contact us. Our engineers will give you the most professional guidance and planning for your plant.
How Much Does Compost Turner Cost?
When it comes to the cost of compost turner machine, their price is different in models. Generally speaking, the cost is depending on which kind of raw material you use and how much yielding capacity you want. Relatively speaking, you will not cost so much on small scale organic compost production machine. And different types of machines are different in price. If you are interested in our organic compost making equipment, welcome to contact us for the latest quotation.
Top 4 Reason for you to Choose ShunXin Heavy Industry
ShunXin has the working experience on fertilizer equipment for nearly 30 years. And we are the leader company in the field of fertilizer equipment production of China.
At present, ShunXin has large-scale standardized factory buildings and specially research and development center. So, it provides strong security for the research and production of high quality fertilizer equipments.
We constantly introduce advanced accessories at home and abroad, in order to ensuring the equipment has a long-term stable operation.
ShunXin can provide you with more professional service. It includes pre-sale service, on-sale service and after-sale service. For this purpose, the satisfaction of customers always is our pursuit.
If you Buy Products from ShunXin, what kind of Services will you get?
In ShunXin heavy industry technology, compost turner for sale to make organic fertilizer compost. These are our services.
1. High-Quality Products. Our company's products are strict in accordance with national standards, contracts and technical specifications to choose the best solutions. We also do comprehensive tracking and monitor the quality of the process and testing to ensure the quality of our products.
2. Customized Services. When you buy organic fertilizer production equipment from ShunXin, no matter the single machine or production line, you will get our VIP customized services. All the products from ShunXin can be customized according to your requirements. So, if you have any requirements about our equipment, please feel free to contact us.
3. Training services. When you buy our equipment, our engineers will be your country to train your workers how to operate our machine safely. Besides, we will also training your workers how to do easy regular maintenance about our machines.
4. After-Sale Services. If you have any questions when you use our machines, you can contact us at any time you want. We will solve your problems as soon as possible. Besides, we will provide one-year quality guarantee and free on-site service for our products. After the warranty expires, we will continue to provide life-long maintenance for you.