What is Windrow Composting?
Composting is a good way to recycle organic wastes and turn them into organic fertilizer. In agriculture, windrow composting is the production of compost by piling organic matter or biodegradable waste in long rows(windrows). Then, you can turn the windrows by yourself or use windrow composting equipment to speed up the composting process. In general, this method of composting is suitable for producing large amounts of compost. It is widely used in organic fertilizer production plant for organic wastes fermentation. But it's not only suit for large scale composting operations. After all, the production capacity depends on the length and height of the rows. So, it is also a convenient way to recycle animal manure and crop residues for farm scale composting operations.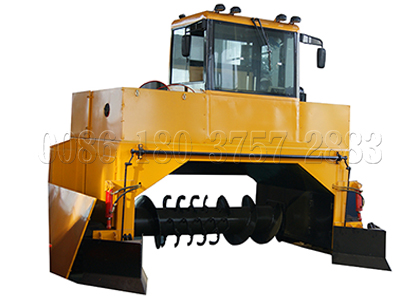 Manure fertilizer composting equipment for sale
Model: SEECLDF-2600(can be customized)
Durning width(mm): 2600
Durning height(mm): 1100-1300
Row spacing(mm): 800-1000
Working speed(m/min): 6-10
Capacity (m³/h): 1000-1200
In windrow composting system, you should turn the long rows generally to improve porosity and oxygen content. Besides, many parameters are controlled carefully such as initial ratios of carbon and nitrogen rich materials, the amount of bulking agent added to assure air porosity, the pile size, moisture content, and turning frequency. What's more, the temperature of the windrows must be measured and logged constantly to determine the optimum time to turn them for quicker compost production.
What is the Ideal Height and Width for Windrows in Windrow Composting System?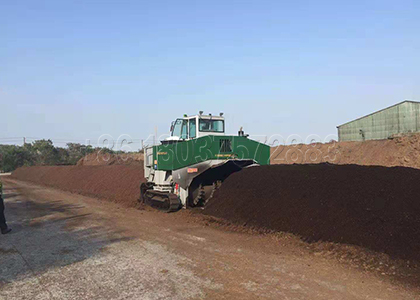 Windrow composting is a convenient way to make compost from various organic wastes. So, more and more farmers would like to compost their animal manure with other kinds of organic wastes together to get high quality organic fertilizer. If you want to compost organic waste in long windrows, the windrow's height and width is also important. And if it is too high, it is difficult to turn them evenly. If it is too low which will occupy too much space to do windrow composting work.
Meanwhile, the width is also important. For mechanical compost turning, the width of the piles should not exceed the width of the compost turner. Here, SEEC has a suggestion for you: The ideal pile height of this composting method is between 4 and 8 feet. In this height level, the pile is large enough to generate sufficient heat and maintain temperatures, and also small enough to allow oxygen to flow to the windrow's core. And, the ideal pile width is between 14 and 16 feet.
How Long does Windrow Composting Take with the Help of Professional Turning Equipment?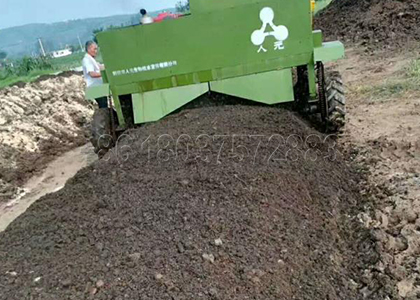 Compared with trench composting methods, windrow composting is easy to operate and save lots of cost. By piling the raw materials into long windrows and turning them with a windrow composting machine, the organic wastes can be fully fermented and become high quality compost soil. After many tests about windrow composting time with the help of SEEC windrow composting turner machine, the composting work can be finished within 20 days. This is much faster than manual stacking and turning.
How does Compost Windrower designed for Windrow Composting?
Compost windrow turners were developed to produce compost on a large scale by Fletcher Sims Jr. of Canyon, Texas. They are traditional large scale composting equipment that straddles a windrow of 4 feet (1.25 meters) or more high, by as much as 12 feet (3.5 meters) across. Nowadays, as a professional fertilizer equipment manufacturer, SEEC has designed different types of compost turners to meet various demand of customers. Our self-propelled composting turner machine and hydraulic compost windrow turner are popular among customers from all over the word. They have a steel drum with paddles that are rapidly turning the compost piles. As the turner moves through the windrow, fresh air (oxygen) is injected into the compost by the drum/paddle assembly. And waste gases produced by bacterial decomposition are vented. In the meanwhile, the oxygen feeds the aerobic bacteria and thus speeds the composting process.
Self-Propelled Windrow Turning Machine
SEEC self-propelled windrow turner is designed according to the working principle of aerobic fermentation. It drives through the windrow at a slow rate of forward movement to turn the compost piles. Besides, it also can move backward and turn around. You can use this machine in organic fertilizer production line and play an important role for the fully fermentation of raw materials.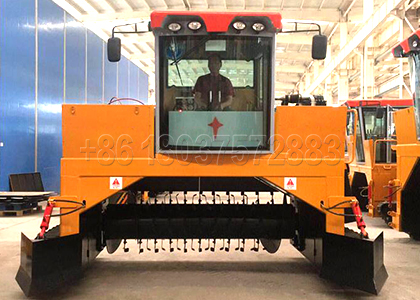 Hydraulic Windrow Turner
This kind of compost turner for windrow composting has a cab for driver. So, it improve the working environment for the worker who operate the turner machine to turn the windrows. Besides, we install the hydraulic push plat on this fertilizer composting equipment. Thus, it can tidy the compost windrows after movement which greatly saves time and labor cost.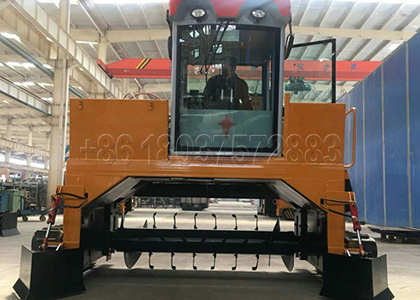 Why the Windrows should be Turned Regularly in Windrow Composting System?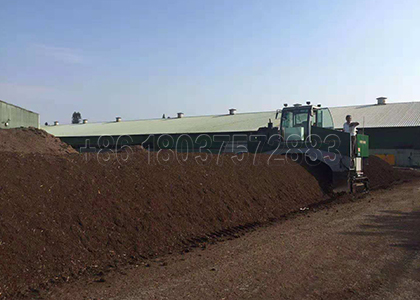 In the windrow composting system, the long windrows you piled should be turned on a regular basis. This is because we adopt the most advanced aerobic fermentation technology in the windrow composting process. So, every time you turn the compost piles, there will be more oxygen enter in and speed up the composting process. Besides, it also helps mixing the organic materials well. If we do not turn the compost piles, the aerobic microorganisms in compost piles will do not have sufficient oxygen to maintain their work. As a result, the lack of oxygen in compost piles will cause anaerobic state and the compost piles will smell badly. So, if you want to get high quality organic compost, it is necessary to turn the compost piles and add more oxygen in the organic wastes fermentation process.
What is the Advantages of Windrow Composting?
Cost-saving. If you want to make compost by windrow composting method, just choose a durable windrow turning machine can meet your basic needs. Besides, for commercial compost production, your cost on related equipment are less than other kinds of composting system.
Aerobic fermentation. The windrow compost turner from SEEC adopts the advanced aerobic fermentation technology which can speed up the composting process.
Easy-operation. Windrow composting method is a convenient way to make compost in high efficiency. It is easy to operate indoors and outdoors.
The flexible of capacity. In windrow composting system, the production capacity is depend on the length and height of your piled rows. In other words, it depends on the amount of your raw materials.