What is poultry manure composting?
It is the product of the composting process which using various species of worms to decompose organic matter. Poultry manure composting, it also can be regarded as composting with chicken litter. When earthworms are introduced into the organic waste treatment process, it has some noticeable effect on organic fertilizer making. For one thing, vermicomposting speeds up the composting process and improves the quality of organic fertilizers greatly. For another, with the development of organic fertilizer production technology, vermicomposting has gained popularity in both industrial and domestic. At the same time, more and more specialized fertilizer production equipment gave us technical support on vermicompost making process.
In SEEC, you will find professional vermicompost making machine for your plant. Besides, all of our products can provide customized services for you. If you want to know the latest quotation, or you have any technical requirement for our machines, just feel free to contact us!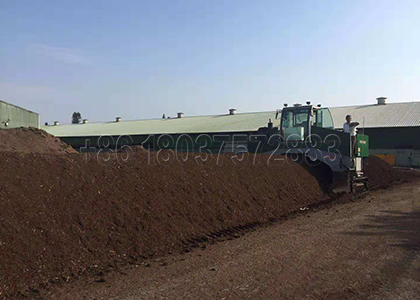 SEEC poultry manure compost making machine
. Model: SEECLDF-2300(can be customized)
. Durning width(mm): 2300
. Durning height(mm): 600-1000
. Row spacing(mm): 800-1000
. Working speed(m/min): 6-10
. Capacity (m³/h): 500-700
Suitable Worm Species for Vermicompost Making Process
There are many kinds of earthworms suitable for poultry manure composting. One of the species most often used for composting is the red wiggler or tiger worm (Eisenia fetida or Eisenia andrei). They are the best type of worm for eating organic waste materials and recycle organic wastes. Because these red worms are surface worms and stay in the top 18 inches of the soil. If you want to do vermicompost making at home, it is usually best to keep them in a closed container so you can keep the process going. Besides, European nightcrawlers (Eisenia hortensis) may also be used in vermicompost making process. And in some tropics area, blueworms (perionyx excavatus) is also suitable to making vermicompost.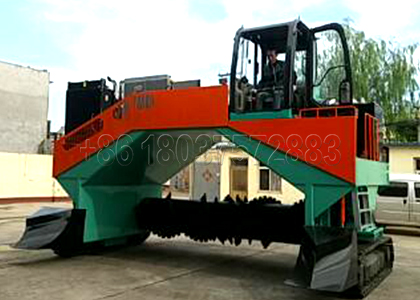 Poultry manure making machine for sale
. Model: SEECLDF-2600(can be customized)
. Durning width(mm): 2600
. Durning height(mm): 1100-1300
. Row spacing(mm): 800-1000
. Working speed(m/min): 6-10
. Capacity (m³/h): 1000-1200
Poultry Manure Compost Making Procedure
Aerobic composting is a good way to make poultry manure compost fertilizer. Here are some vermicompost preparation steps:
Before you start your vermicompost business, you need to establish a vermicompost project. Generally speaking, the key to the project is an uninterrupted supply of earthworms. In this case, you may need to grow your own earthworms in your plant or partner with a local earthworm farm.
Then, you need to collect your organic waste and classify them. In order to achieve a better fermentation effect, you can also crush your organic wastes with SEEC semi-wet material crusher. After the crushing process, earthworms can decompose your organic wastes more quickly.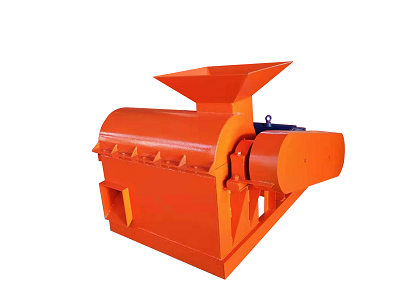 SEEC semi-wet material crusher for sale
. Model: SEECSF-90(can be customized)
. Power(kw): 37
. Production capacity(t/h): 3-5
. Crushing granularity(mesh): 50
. Inlet size(mm): 550×410
. Dimensions(mm): 1800×1550×1700
With the help of vermicompost turner machine, you can start your large scale poultry manure composting business easily. During the poultry manure composting process, the temperature of the vermicompost pile can reach 55-70℃. The high temperature will last about three days. So, most of the pathogenic microorganisms in organic waste, parasitic worm eggs and fly larvae will be killed at this time. Besides, the poultry manure compost turner from SEEC can be customized according to your vermicompost business plan. If you have any requirements about it, just contact us freely.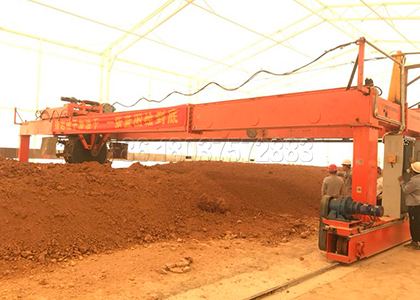 Poultry manure composting equipment for sale
. Model: SEECLDF-3000(can be customized)
. Durning width(mm): 3000
. Durning height(mm): 1300-1500
. Row spacing(mm): 800-1000
. Working speed(m/min): 6-10
. Capacity (m³/h): 1300-1500
What you Should Pay Attention to When you Make Vermicompost?
The working principle of poultry manure composting is using the worms to convert organic waste into nutrient-rich soil. Compared to any other organic fertilizers, this kind of vermicompost fertilizer is more effective than them. But how can we get high quality vermicompost? Here are some suggestions for you:
Earthworms need a right place to break down organic waste. Generally speaking, it can be a container like a box, or just oh ground. But the most important point is you need to ensure it is good for drainage and ventilation.
Suitable temperature. This is because earthworms like to live in dark, wet places.
Diversity of organic waste. You should feed worms with different kinds of organic wastes, if we feed them always in same things, it is not good to the quality of vermicompost products.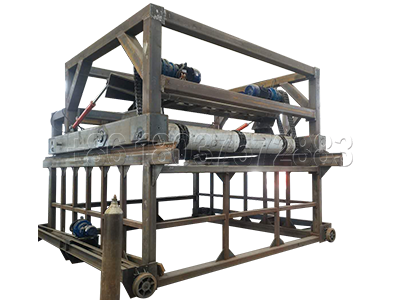 Vermicomposting machine
. Model: SEECLDF-3000(can be customized)
. Durning width(mm): 2600
. Durning height(mm): 1600-1800
. Row spacing(mm): 100-1000
. Working speed(m/min): 6-10
. Capacity (m³/h): 1500-1800
How to do Vermicomposting in Large Scale with SEEC Vermicompost Making Machine?
Composting with worms is a good method to reduce the organic wastes. But if you want to practice large-scale vermicomposting, you may really need some professional production equipment to help you do the work. The most important equipment in vermicompost making process is the compost turner. Since the poultry manure composting method was popularized, the compost windrow turners has play an important role in large scale composting system. use SEEC vermicompost windrow turners, you can do large scale poultry manure composting work in your own farm. Of course, you do not need to worried about worms would escape from the windrows. As long as you feed and drink these worms well, they will be happy to work for you.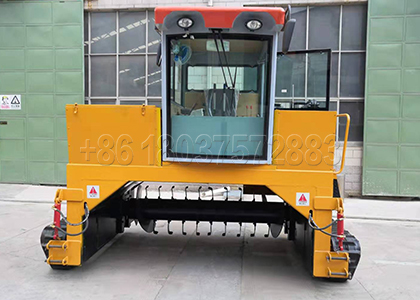 How does Poultry Manure Composting Benefit the Soil?
It improves soil structure, texture, and aeration. besides, it also increasesthe water-holding capacityof the soil.
Poultry manure compost is good than chemical fertilizer. It provides amount of nutrients for plants that dramatically improves the texture and fertility of soil.
Using worms in the composting process can speed up the fermentation time greatly and save the cost on organic fertilizer making.
Vermicomposting can add beneficial organisms to the soil. These microorganisms and soil fauna help break down organic materials and convert nutrients into a more available food form for plants.