Organic Compost Making Machine for Sale
SEEC Heavy Industry is a professional organic fertilizer production equipment supplier which can provide you high quality organic compost making machine. We have different models of compost turner for you to make organic compost. For example, if you want to start large scale farming composting work, there are wheel type composting machine. If you want to make your own natural compost with low-cost, we have groove type compost machine for you. Besides, there are also hydraulic windrow compost turner for you to make compost efficiently. They all have their own characteristics and the best working environment. If you are interested in one of them and want to know more information, please contact us for more details.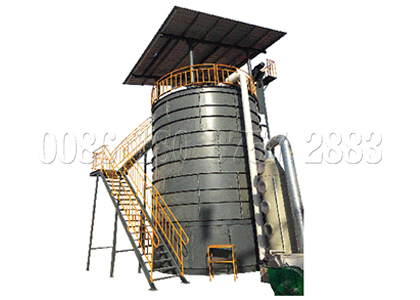 How much does Organic Compost Making Machine Cost from SEEC Fertilizer Machinery?
When it comes to the cost of compost making machine, their price is different in models. Generally speaking, the cost is depending on which kind of raw material you use and how much yielding capacity you want. Relatively speaking, you will not cost so much on small scale organic compost production machine. And different types of machines are different in price. If you are interested in our organic fertilizer making equipment, welcome to contact us for the latest quotation.
What is Organic Compost?
Generally speaking, organic compost is decomposed organic matter. It is a natural process of recycling organic material such as leaves and vegetable scraps into a rich soil amendment that gardeners fondly nickname black gold. At present, there are two kinds of natural compost. One is commercial organic compost and the other one is bio-organic compost. They are different just depend on what kind of raw material it use. In general, industrial wastes and municipal sludge are often using to produce commercial organic compost. As for agricultural wastes, livestock, poultry manure and household garbage, they are organic material for bio-organic compost. All in all, the most important function of organic fertilizers is to increase the organic matter in the soil. And the organic matter is the core component of soil and have a direct effect on soil fertility. Thus, making organic compost is a meaningful thing for every one of us.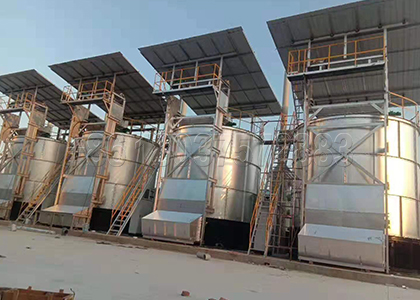 Compost Bin for Making Organic Compost
Model: SEECFJG-5
Heating Power(kw): 4×6
Stirring Power(kw): 7.5
Reducer Model: BLED74-289-7.5
Stirring Speed(r/min): 3
Overall Size(mm): 2200x2200x5300
How To Make Organic Compost with your Homemade Wastes?
If you want to do organic compost at home, a compost bin is the most suitable facility for you. We can provide you 3 to 150 cubic organic compost bin for different type. This is a full-closed vessel for organic waste composting. So, when you use this compost bin, you do not need to care about the unpleasant odor would affect air quality. Besides, this organic compost bin can keep warm for the organic material in the cold weather. The experimental data has shows that this equipment is still capable to do normal fermentation work at -20 degrees Celsius. Of course, it also confirmed in the real working condition.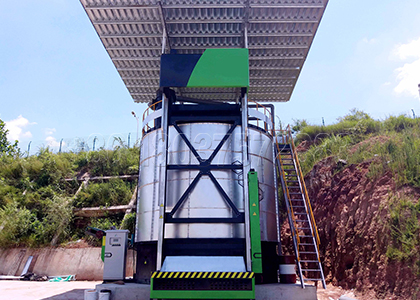 Full-closed Vessel for Organic Waste Composting
Model: SEECFJG-10
Heating Power(kw): 4×6
Stirring Power(kw): 11
Reducer Model: BLED85-493-11
Stirring Speed(r/min): 3
Overall Size(mm): 2400x3700x8500
Groove Type Organic Compost Making Machine for Sale
The groove type compost making machine is a typical fertilizer production equipment in organic compost fertilizer making process. The groove type compost turner manufactured in SEEC has 3 national patents. Its turning span can between 3 and 30 meters and the turning height can reach 0.8-1.8 meters. What's more, it mainly adopts the unique continuous aerobic tank fermentation technology to let the organic matter rot and mature quickly. With the help of this organic compost production machine, the organic waste can quickly come to the form of decomposed, dewatered, sterilized and deodorized. Besides, the mixing device on this machine can stir and crush the material at the same time. It greatly improved the working efficiency of this machine.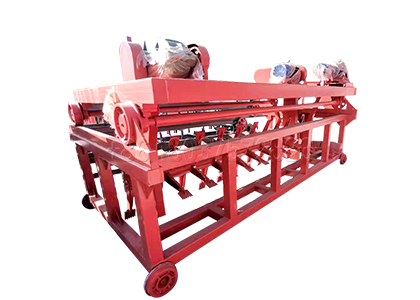 Wheel Type Compost Turner for Large-Scale Organic Farming Compost Making
The most distinctive feature of this machine is its turning span. Compared with the traditional mechanical turning equipment, this equipment has a new breakthrough on turning span. Generally speaking, the largest turning span of this wheel type organic farming compost turner can reach 30 meters. Therefore, it meets the demand of large-scale organic fertilizer production, such as large-scale organic farming compost making. Besides, it equipped with fully automation electrical control system to ensure safety and reliable of the fermentation work of organic compost. What's more, if you have ant requirements about this equipment, we can customize for you.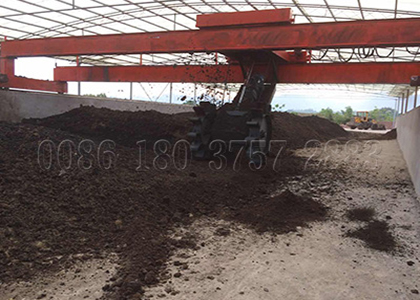 Hydraulic Type Fertilizer Turner for Making Organic Compost
When you use this machine, you need to pile up the organic material into a windrow on the flat ground. When it is working, it will mix and stir the organic material at the same time. And it also introduce the oxygen into the compost pile helping to speed the fertilizer decomposition process. What's more, it is an efficient and energy-saving organic compost production equipment which can save your cost on making compost fertilizer.
Self-Propelled Compost Making Machine for Sale
This machine is the main engine in the production of organic fertilizer production equipment. With the design of 4 walking wheel, it can move forward, backward and turn around freely. One of the technological breakthroughs of this machine is adding the crush function in the post processing of organic fermentation. This unit save the cost of crushing equipment and greatly improves the crushing efficiency. What's more, this machine can work both outside and workshop. And the advanced aerobic fermentation technology make the fermentation bacteria have enough space to do their work.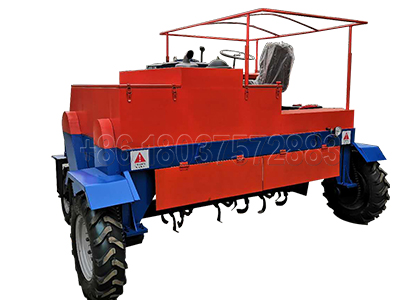 Where To Buy Organic Compost Making Machine?
If you are looking for the organic composting machine for your plant, SEEC Heavy Industry will be the best choice for you. It is because SEEC has more than 30 years working experience in manufacturing the organic compost making equipment. Over the past 30 years, we have sold our organic compost production machines all over the world. And we have a good reputation among our clients. What's more, we have always welcome friends from all over the world to have a visit to our factory. Besides, we are also committed to the research of high quality organic fertilizer production equipment in a long period. So, we are strongly believe that we can provide you with the high quality products and the perfect service.
How To Choose Organic Compost Making Machine for Your Plant?
When you choose machine for your organic compost making, it just same as we buy other goods in the market. Sometimes, the same goods may be marked in different price. So, the best method for your equipment choosing is to have the field visit to the factory.
Tonda Heavy Industry, as a professional organic fertilizer production equipment supplier in China, we have build over 60,000 ㎡standardized heavy industrial plant for the equipment production. In the past 30 years, we have continuously introduced advanced large and medium-sized processing equipment to improve our production system. And also set up a professional team for the research of high-quality fertilizer equipment. If you do not know how to choose organic fertilizer making machine for your plant or you are not sure whether the facility you choose is suitable for yourself, just feel free to contact us. Our engineers will give you the most professional guidance and planning for your plant.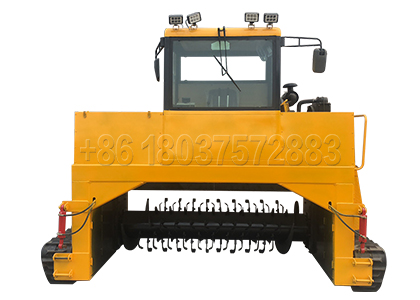 Hydraulic compost turner for sale in SEEC
Model: SEECLDF-2600(can be customized)
Durning width(mm): 2600
Durning height(mm): 1100-1300
Row spacing(mm): 800-1000
Working speed(m/min): 6-10
Capacity (m³/h): 1000-1200